Windsurf: An interview with the athlete who will represent Italy in the next Olympics.
A CHAT WITH FABIAN HEIDEGGER IN THE RUN UP TO THE RS:X WORLD CHAMPIONSHIPS IN TAKAPUNA
It will be a high level event for the RS:X championships to be held in Takapuna, New Zealand, from the 12th to the 20th of January. A World Championship with a high number of nations taking place. In Auckland's water there will be more than 200 athletes coming from 49 nations with 120 male athletes and 80 female athletes competing. The best athletes will be competing and many of those will be after the last places in the Chinese Olympics.
Alessandra Sensini and Fabian Heideegger will be able to race without the pressure that the other athletes will feel, they have already taken their places for the up-coming Olympics. For the past two months many of the athletes have undergone a strict training program which has taken them from the Canary Islands to the Kiwi Land, giving them a taste of what's to come in the Olympics. We will be talking to Fabian Heidegger, a young athlete from Bolzano who in 2007 showed very good reults indeed. He's friendly, good and is very much appreciated in the Olympic Windsurfing field, however young he may be. He's very sure of himself, Fabian Heidegger will represent Italy in the next Olympic Games in Beijing. He didn't give his Italian oponents much of a chance in the races that were organised by the FIV, and thanks to the work he carried out abroad under direction from Amit Imbar, Gal Friedman's coach (Gold medal in Athens) and who for many years was Raccardo Giordano's sparring partner. The ninteen year old began in Caldaro - the Caldaro Sailing Club, a few days ago he became part of the Italian Navy sports group. He started his windsurfing career in 2002, taking part, straight away in the first races of the Mistral Class and gaining excellent results first in the Aloha Class and then in the Youth Olympic Mistral Class and from 2006 in the new RS:X Olympic Class, with a gold medal in the ISAF Youth World Championships. 2007 was his turning point when a series of important results gave him the gate-way to China, leaving behind his team mates Federico Esposito from Tuscany and the Sicilian Riccardo Belli dell' Isca, who decided not to participate at the important windsurf event in New Zealand.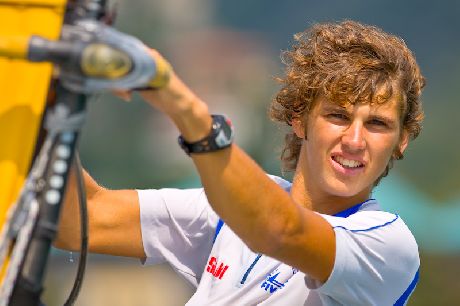 Interview with Fabian Heidegger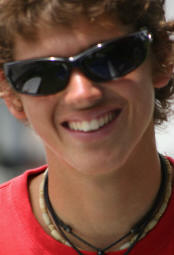 ►What do you like about this sport?
I really like Windsurfing. It's a very extensive sport, where you have to be a yachtsman at 360°. It's important to be very fit, to have a high tactic and strategic level and also have good mental and technical levels.


►You have been training for the past five or six years around the world. Tell us you experiences, places you've been and training companions.
Ever since I've been participating in races at a national level, my club has always given me the chance to compete in international races. Maturing, I always thought it was better to travel and change training partner. The most imortant "training trip" was during the winter of 2006/07 in Israel where I was lucky to have Gal Fridman as my training partner.


| | |
| --- | --- |
| | The Israeli Gal Fridman, Gold Medal at Athens' Olympic Games, plays his first international windurfing regatta in Mondello on the occasion of Windsurf World Festival |
►What results did you obtain for qualifying?
In 2007 I obtained excellent reults, the best results in my career. I took 5th place in Medemblik, 4th place in the Europeans (Cyprus) and 11th in the World Championships (Cascais), which were the most important for the Olympic selections. Seventh place at the pre-Olympic games in Qingdao (China) was the most important for me, it has gave me the confidence to go to the Olympic games with the objective of taking a medal.

►
When did you begin to realise that you would have won the selections?
I was very sure of myself even before the races started but after the results I took in the World Championships in Cascais, I was sure that there was nothing my team mates could do to catch up.

►Where and how long have you trained for?
I've been through tough intense training programs, especially at a physical level, psychologically I quite a relaxed person and get in the water with no problems. Last winter I trained at Gran Canaria, with a group of international athletes (Toni Wilhelm GER, Richard Stauffacher SUI, Byron Kokkolanis GRE, Nimrod Mashiah ISR) up until November, afterwards I came to to New Zealand to prepare for the World Championships. Here I'm training with Tom Ashley NZL, Shahar Zubari ISR, Joao Rodrigez POR and Byron Kokkolanis GRE.

►You have trained along side the Gold Medal winner in Athens, the Israelian Gal Fridman and lately with the New Zealander Tom Ashley, who has already qualified for China. What is your training typology and your preperation level.


| | |
| --- | --- |
| | Tom Ashely, favourite surfer as n°1 with RS:X World Championship of Takapuna, New Zealand |
My expereince was with Gal Fridman as training partner and Amit Imbar as coach. During that period I learned so much, not only a sporting level but also for my future as an athlete. Gal and Amit taught something really important:how to prepare for a competition as an objective. I also learned how to be more self assured and to be original in my choices of sport and life. I have more self-esteem, which is important for everyone but is fundamental for an athlete.
Tom Ashley is a very special person. With him I was able to train like I've never trained before. In this phase the phsyical training is very important. We trained a lot of hours on bicycles and in the water, even in difficult wind conditions. My ability to suffering has grown clearly in this past month.
►Is it better windsurfing here on the other side of the world or back home in Italy? Are there any differences?
Travelling around and changing places where I train I have known lots of kinds of windsurfs and different ways of doing it. But it is the freedom that you get out of it that counts, being in touch with the nature, the sea, and the wind.
One thing is sure that in all parts of the world there are positive and negative things. There are countries like Israel where windsurf has a completly different importance that what it has where we live. Even the space dedicated by the media is huge.

►Who do you see as a favourite in this World Championships? Who do you fear the most?
I see myself as the favourite of course. But if I have to name other people it would be Tom Ashley or Julien Bontemps. I might be frightened, it can save from you difficult situations, but fear, no never that.

►Two names on the podium at this World Championships.
The New Zealander Tom Ashley and Alessandra Sensini.

COBA
Race Web Site
Race Results
PhotoGallery

Fabian Heidegger Official Web Site

Italian