Windsurf: Olympic Classes - RS:X Male and Female
TAKAPUNA'S WORLD CHAMPIONSHIP IS STARTING IN NEW ZEALAND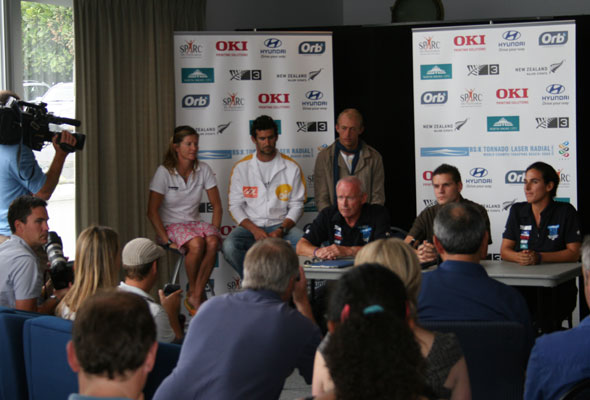 The Takapuna World Championships have began with a press cenference, which was held in the presence of Barbara Kendall and Tom Ashley the hosting athletes and Ricardo Santos the current world champion also know as Bimba. The Chinese athletes were all present and were the first to begin the procedure of checking in their equipment. With a really well organised group of staff. Rigid rules for the athletes, where there seems to be a notable difference of equipment used from each athlete aimed at testing sails, masts and especially rudders, which should determine a better performance. The two Italian athletes Federico Esposito and Alessandro Giannini are back on their feet after a viral infection that made them miss out on training.

Everything is ready in the bay in Auckland, at the Takapuna Boating Club, the checking in of equipment and the enrolment of athletes is now finished and in two days time one of the most important sail races will take place. After the World Championships in Cascais, Portugal 2007, where 75% of the nations qualified for the Olympics from all classes, this event held in Auckland will be of a high level, for qualitative and numeral standards of the partecipating athletes.

| | |
| --- | --- |
| | |

For the RS:X athletes, the new year began with a long journey to the summer in Auckland. With technical meetings, tough training, a lot of fun and lots of sacrifices. It's not long now until the big day arrives for the begining of the World Championships in Takapuna. This event will take place in Auckland's waters from the 12th to the 20th of January 2008. In the "city of sails" there will be more than 200 athletes from 49 nations, ready to compete in this competition of 120 male athletes and 80 female athletes. They will be competing for the last remaining places of the Olympic Games. Athletes under the spot light are the female athlete from Italy Alessandra Sensini, three times Olympic medal winner, and the athlete from Auckland Barbara Kendall, in the male competition Fabian Heidegger from Caldaro, Italy, a young athlete who has already qualified for the Beijing 2008 Olympic games. For these athletes they can carry out the races without the pressure of winning, they have already gained a place in the upcoming Olympics.


In the land of the Kiwi's, for the last two weeks, there has also been other Italian athletes, Flavia Tartaglini, Alessandro Giannini, Federico Esposito, Marcantonio Baglione, Guido Carli and Laura Linares, who made it here yesterday with Michele Cicerone. In the past few days all the athletes have been training really hard. There was a few problems for Esposito and Giannini who had to stop training for a few days due to a viral infection, but are now back on their feet. In this World Championship you can follow the races thanks to a sophisticated score system available on internet:
Sito della regata


Photo Gallery

Classifiche

Elenco Atleti