Windsurf: Olympic Class -
RS:X
Male and Female
A BREAK FOR THE NEW ZEALAND WORLD CHAMPIONSHIPS. A MEETING FOR THE INTERNATIONAL CLASS
A summit during the reserve day of the RS:X championships to get to the point of a few situations. A few important topics to discuss of the upcoming 2008 Olympic Games in Beijing which will be held in august.
Wednesday the 16th of January a day of rest for the athletes muscles. The third RS:X World Championships, held in New Zealand, stopped for a day at Takapuna Beach. A day of needed rest after three days of races for the 200 athletes competing in this Windsurf Olympic Championships, who have already carried out all six races programmed.
A break decided by the management of the international class with a meeting held by the class Vice President, Piotr Hlavaty from Poland, and Rory Ramsden, ex Mistral secretary and now the new secretary of the RS:X Class. During this meeting the new model of the RS:X was discussed, it will be used in the next Olympics, the new variations were shown by illustrations. The world championships were assigned for 2010 to be held in Paros, Greece. The Greek race was voted with two points more than Denmark.
The Junior European Championships to be held in Palermo were discussed, it could become a World Championship due to problems in Thailand, where they were due to be held in December 2008. The European Open Championship was confirmed for Palermo for teams (two men and a woman) during the 23rd edition of the World Festival on the Beach in Mondello. As for the Sicilian city an international individual ranking race was discussed and in the next few days the eventual transformations will be known for Sicily, in which it's due to be held in August.
A good interest for the championships made up of teams, 10 nations admitted, represented by 20 men and 10 women.
From today, it was decided that all athletes competing will be obliged to race with the flag of their nation, which up until now have not been used for technical problems ( the "R" of RS:X logo with a few centimetre more) didn't allow any room for the stickers.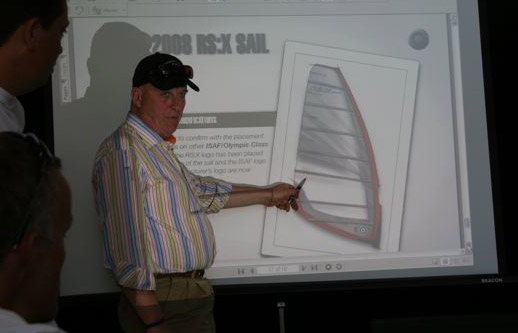 Rory Ramsden the new RS:X Class Chairman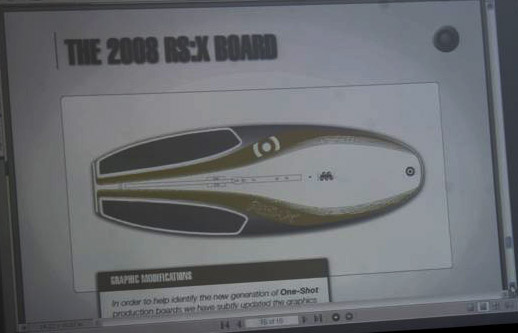 The new shape of board for the Olympic Games 2008
Regatta Web Site


Photo Gallery
: Albaria
www.oceanphotography.co.nz
http://www.sail-world.com/nz/


Video 1st WOMEN REGATTA: ALESSANDRA SENSINI WINS

Video 1st MEN REGATTA


Overall Standing RS:X Men

Overall Standing RS:X Women

Athletes'