Windsurf: Olympic Class – RS:X Male and Female
THE NEW ZEALANDER KENDALL TAKES THE LEAD, SENSINI IN SECOND PLACE, TOM ASHLEY LEADING HIS GROUP
In Auckland's bay at Takapuna Beach, tough times at the top for the female athletes Alessandra Sensini and Barabara Kendall in the third day of the New Zealand World Championships. The new leader is Barbara Kendall, who races in the same group as Alessandra Sensini, Kendall came in at second place in the 5th and 6th race and Sensini 3rd and 6th place, three points away from the leader. The Spanish girl Manchon coming in third. Flavia Tartagliani in 15th place and Laura Linares 24th. In the male category Fabian Heidegger is 18th with a third place in the 5th race. Esposito in 26th place. The first three positions haven't changed with the New Zealander first, Lafuente second and Myszka third. The championship still has a long way to go, three more days of races, qualifications for the Medal Race, programmed for Saturday the 19th.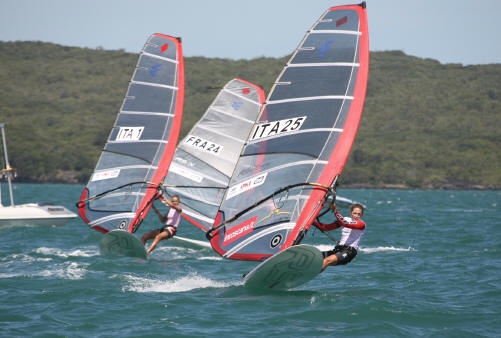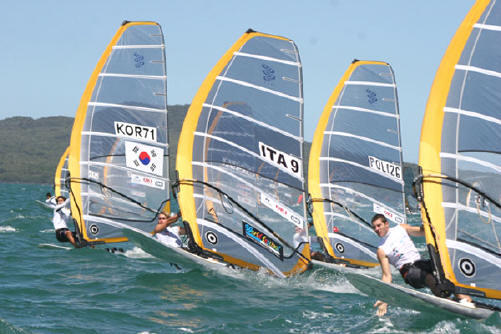 Two more races were held at the New Zealand 2008 RS:X World Championships, an instable wind blew on the race field at Takapuna Beach, in Auckland's Bay.The multi medal winner Alessandra Sensini loses the first position in the classification, but still has a good position thanks to a third and a sixth place today. Barbara Kendall has beaten the Italian with two second places today, she is in the lead in the provisional results with 8 points.
| | |
| --- | --- |
| | |
| Flavia Tartaglini | Federico Esposito |

In second place Sensini with 11 points, two Spanish girls Blanca Manchon and Marina Alabau both in third place with 14 points. Flavia Tartagliani had a good day with 4th and 9th place in todays races bringing her up to 15th place in the general results. Laura Linares is 24th. With these positions, after 6 races, all three of the Italian female athletes will go through to the Gold Fleet, made up of the first half of the competitors in the general results. The last phase of the chmpionships will begin on thursday, after wednesdays reserve day.
| | |
| --- | --- |
| | |

In the male category, the New Zealander Tom Ashley is in first place winning three races out of six, Fabian Heidegger took 21st and 3rd place bringing him up to 18th place in the general results.. The other italians : 26th Federico Esposito, 85th Guido Carli, 100th Marcantonio Baglione, 102nd Alessandro Giannini and 117th Michele Cicerone. Fabian Heidegger and Federico Esposito will both go through to the finals in the Gold Fleet, while the other Italian athletes will compete in the Silver Fleet.


Male Overall Results

1. Tom Ashley (NZL)
2. Ivan Pastor Lafuente (ESP )
3. Piotr Myszka (POL )
4. Shahar Zubari (ISR )
5. Przemyslaw Miarczynski (POL)
6. Casper Bouman (NED)
7. Joao Rodrigues (POR)
8. Nick Dempsey (GBR)
9. Dorian van Rijsselberge
10. Nicholas Le Gal (FRA)

18° Fabian Heidegger - 26° Federico Esposito - 85° Guido Carli - 100° Marcantonio Baglione - 102° Alessandro Giannini - 117° Michele Cicerone (ITA)


Female Overall Results

1. Barbara Kendall (NZL)
2. Alessandra Sensini (ITA)
3. Blanca Manchon (ESP)
4. Marina Alabau (ESP)
5. Faustine Merret (FRA)
6. Charline Piccon (FRA)
7. Mingli Duan (CHN)
8. Bryony Shaw (GBR)
9. Peina Chen (CHN)
10. Zofia Klepacka (POL)

15^ Flavia Tartaglini - 24^ Laura Linares (ITA)



Photo Gallery
: Albaria
www.oceanphotography.co.nz
http://www.sail-world.com/nz/

Video 1st WOMEN REGATTA: ALESSANDRA SENSINI WINS

Video 1st MEN REGATTA
Overall Standing RS:X Men

Overall Standing RS:X Women

Athletes'