Windsurf: Olympic Class - RS:X Male and Female

THE NEW ZEALANDER TOM ASHLEY IN THE LEAD
A BATTLE BETWEEN SENSINI AND KENDALL. THE ITALIAN WINS THE FOURTH RACE AND REMAINS IN THE LEAD
Different groups but exact results for the Italian and the New Zealander Barbara Kendall. Sensini, is ahead with one victory, and keeps the lead in the female category, Kendall comes in second, followed by Marina Alabau from Spain and Charline Piccon from France, who from third place dropprd down into fourth place. Fabian Heidegger who took an 8th and 7th place went into16th place in the overall provisional results. Lafuente is in second place and Myszka, third. Federico Esposito slides down to 29th place, but still remains in the finalists zone. Laura Linares comes down from 6th to 22nd place followed by Flavia Tartagliani, both remaining amongst the finalists group.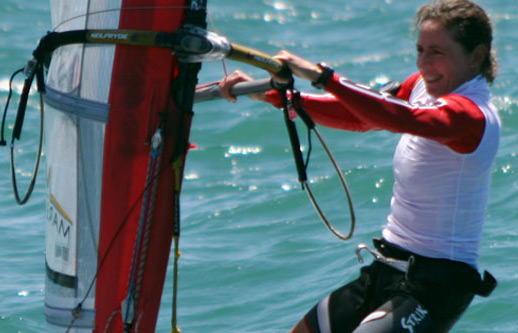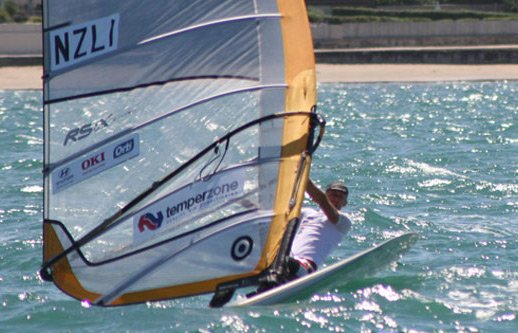 Two races were held with excellent wind conditions blowing at 10 - 15 knots, in the second day of races of the RS:X World Championships. In Auckland's water at Hauraki Gulf, New Zealand, the Italian Champion, Alessandra Sensini takes first place and fifth place in todays races maintaining first position in the provisional results with 8 points. Barbara Kendall from New Zealand is head to head with Alessandra Sensini with the same results even though they both race in different groups, she also had a first place and fifth place today.
Young Laura Linares after a good first days results, placed herself with 15th and 24th place bringing her down to 22nd place in the overall results, followed by Flavia Tartagliani, with a 9th and 13th place. In the male category, Fabian Heidegger, with a 9th and 7th place, is 9th in his group and 16th in the general results. The other Italian athletes:29th Federico Esposito, 86th Guido Carli, 98th Marcantonio Baglione, 112th Alessandro Giannini and 117th Michele Cicerone.

| | | |
| --- | --- | --- |
| | | |
| Laura Linares | | Marcantonio Baglione |


Male Overall Results

1. Tom Ashley (NZL)
2. Ivan Pastor Lafuente (ESP)
3. Piotr Myszka (POL)
4. Nicholas Le Gal (FRA)
5. Przemyslaw Miarczynski (POL)
6. Shahar Zubari (ISR)
7. Nick Dempsey (GBR)
8. Nimrod Mashiah (ISR)
9. Joao Rodrigues (POR)
10. Samuel Launay (FRA)

16° Fabian Heidegger -
29° Federico Esposito - 86° Guido Carli - 98° Marcantonio Baglione - 112° Alessandro Giannini - 117° Michele Cicerone (ITA)



Female Overall Results

1. Alessandra Sensini (ITA)
2. Barbara Kendall (NZL)
3. Charline Piccon (FRA)
4. Faustine Merret (FRA)
5. Blanca Manchon (ESP)
6. Mingli Duan (CHN)
7. Peina Chen (CHN)
8. Marina Alabau (ESP)
9. Bryony Shaw (GBR)
10. Jessica Crisp (AUS)


22^ Laura Linares - 23
^ Flavia Tartaglini
(ITA)



Regatta Web Site


Photo Gallery
: Albaria
www.oceanphotography.co.nz
http://www.sail-world.com/nz/


Video 1st WOMEN REGATTA: ALESSANDRA SENSINI WINS

Video 1st MEN REGATTA


Overall Standing RS:X Men

Overall Standing RS:X Women

Athletes'