Sailing - Olympic Class - 49er
THE LAST OLYMPICS FOR THE AUSTRIAN CHRIS SIEBER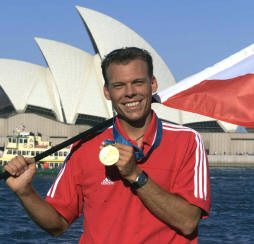 Chris Sieber is getting ready for the next Olympics to be held in Beijing along with his team mate and friend - Clemens Cruise, this will be the last challenge for Chris behind the sails. He has already won a Gold Medal in Sydney for windsurfing, this time he will try and reach the podium with his skills in the 49er Class. For someone who loves speed and tactic strategics, he has a good chance in his hands.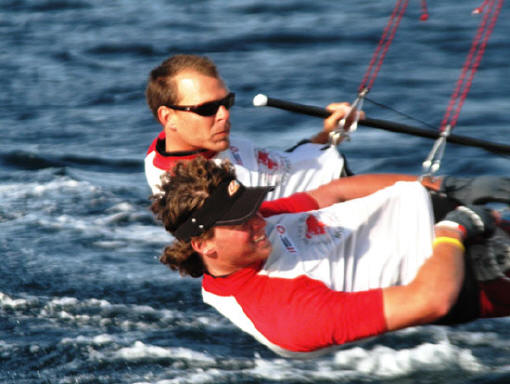 Christoph Sieber (al timone) e Clemens Kruse
Christoph Sieber began early in the sporting world, he began windsurfing when he was very young, and made a proffesional career out of it. He took the Gold medal in the World Championships in Sydney in 2000, along with many other important titles.


Interview with Christoph Sieber

Why did you give up windsurf?
"I did windsurfing and only windsurfing for twenty years. It didn't challenge me anymore. After taking the Gold Medal in Sydney I knew I had reached my goal and therefore the game was over for me. So I went to look for what I gave up in another sport. I've always loved speed and the need for tactics; and that's why I began my move in to the world of the 49er. At first I didn't even have a clue how to sail. It was hard as I had to learn lots of new slills in such a short time. In addition the physical training in windsurf is very tough. I trained for twenty years. I'm 36 years old now and I don't want to continue anymore: life is too short."
Christoph your team mate in this Chinese adventure is Clemens Kruse, another great athlete who has won different national Austrian titles.
"I've sailed with Kruse from the begining, and it's three years that we are together in the run up to the olympics. When we started out I asked him if he had any plans for the next four years. He said no, I said to him: lets sail then!. He has already in his past a sailing history with the 49er, unlike me. He sailed with his brother, who qualified for Sydney. His experience really helped me out a great deal. And also his patience: it's very hard to continue when you wreck so many boats and come back bleeding! Especially when you are sailing with someone like me, who at the begining doesn't know how to move oneself."
The Austrai Team are training for the Beijing Olympics with hopes of reaching the podium. What do you predict?
" We would like to make it through to the Olympics to represent Austria, but we have Niko Delle Karth ( ex world champion) against us. We will be training in April and we'll see how it goes. We will do all we can and try our best. Which ever way it goes I'll be happy anyway that I have reached this level in three years: it means a lot to me."
Will this really be the last year that you compete?
" Yes, Beijing is the last challenge for me, It will be the last Olympics in which I will compete. Out of the Olympics it's not an easy sport to practice in Austria. I've done it for twenty years and now that I have a young child I want to do something else. I'm good at motivating, apart from sailing and I think my future job will be that, from here onwards.".
I

talian Version

Pietro Calafiore