Agenzie di stampa



Adnkronos



Agenzia Italia



Ansa



Asca



France Press


Reuters



Associated Press




OROSCOPO


Prima Pagina è un servizio di Albaria per evidenziare alcuni avvenimenti che corredati da immagini fotografiche potranno essere in seguito pubblicati anche sulla rivista Albaria Magazine

Pubblicazioni
Prima Pagina
1998

Pubblicazioni
Albaria Magazine

Chi Siamo

Copyright © 1997 Albaria Magazine
Pubblicazione iscritta il 26/03/1983 al n.10 del Registro della Stampa presso il Tribunale di Palermo Direttore:
Vincenzo Baglione
Tutti i diritti sono riservati
E-mail: albaria@tin.it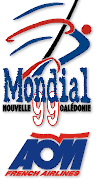 Sport: Windsurf Classe olimpica
CAMPIONATI MONDIALI - NUMEA (Nuova Caledonia) 14-20 novembre 1999
Home Page - http://www.acpv.com

Lars Kleppich e la neozelandese Barbara Kendall dominano il mondiale in Nuova Caledonia

LA RIMONTA DI ALESSANDRA SENSINI.
RICCARDO GIORDANO RISALE TRE POSIZIONI NONOSTANTE L'INCIDENTE NELLA DECIMA PROVA

Australian Lars Kleppich and New-Zealander Barbara Kendall won the titles after a fantastic week of races on the site ofCôte-Blanche in Nouméa. Eleven races have been run, for the women as for the boys, which is the maximum authorized from international rules.

La bravura, la costanza dei piazzamenti e la determinazione nella vincita dell'undicesima ed ultima prova hanno portato l'australiano Lars Kleppich sul gradino più alto del podio davanti al fijiano Tony Philp (argento) e all'argentimo Marcos Galvan (bronzo) protagonista di una rimonta nelle ultime quattro prove. Scivolone in tredicesima posizione per il plurititolato Aaron Macimtosh giunto tredicesimo davanti all'azzurro Riccardo Giordano.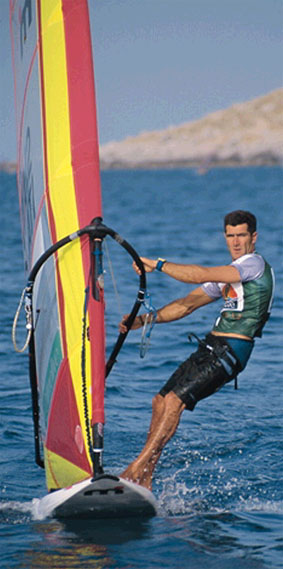 Il siciliano è stato penalizzato dai tre piazzamenti oltre la ventesima posizione (13 6 4 5 26 19 5 41 35 8 14) - "Avrei potuto fare di meglio se avessi avuto meno imprevisti e se ci fosse stato più vento. Nella terz'ultima prova la giuria mi ha dato uno strano punteggio medio; sono stato affonfdato alla partenza da due press boat concludendo la prova in pessima posizione; la giuria pur avendo visto tutto mi ha soltanto il 20% del piazzamento di quella prova anzicchè il vero punteggio medio; avrei potuto finire ottavo." - ha dichiarato Riccardo Giordano alla conclusione del Campionati - Il siciliano portacolori del club Albaria di Palermo, che aveva lasciato ben sperare dopo le ottime prove di qualificazione, non è riuscito ad affiancare il suo compagno-rivale di allenamenti Lars Kleppich (dominatore di questo mondiale, bronzo a Barcellona, primo alla recente preolimpica di Sydney e vincitore della 14a edizione del Windsurf World Festival davanti allo stesso Giordano). Fra le donne netta l'affermazione di Barbara Kendall davanti alle francesi Faustine Merret (argento) e Lise Vidal (bronzo). L'australiana Jessica Crisp, seconda fino alla penultima prova è stata scavalcata nella classifica generale anche dalla connazionale Natasha Sturgers. Campionato da "ricordare" per la rimonta di Alessandra Sensini (piazzamenti 7 8 6 21 17 21 8 DNF 3 10 7) che nonostante le precarie condizioni di salute ha concluso all'ottavo posto a soli 14 punti dalla terza classificata. Soddisfazione per l'azzurra, bronzo alle recenti Olimpiadi di Atlanta, che grazie al risultato ottenuto in questo campionato resta al comando della ranking mondiale Isaf.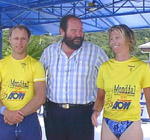 Accanto Lars Kleppish e Barbara Kendall vestono le classiche maglie gialle che individuano gli atleti in testa nelle rispettive categorie. Sotto Lars Leppish in azionee nella seconda immagine l'argentino Marcos Galvan in boa dietro il polacco Malek Miloslaw che copre Riccado Giordano. A seguire Aarom Machintosh che dopo aver tenuto testa per quasi tutto il mondiale è scivolato in tredicesima posizione davanti a Giordano. (cliccare sulle foto per l'ingrandimento).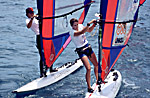 Qui sopra Alessandra Sensini (cliccare sulla foto per l'ingrandimento) rientrerà subito in Italia per continuerà la sua preparazione per Sidney 2000 mentre Riccardo Giordano perteciperà ad la regata "Trade Wind Tropy" e posi si sposterà in Australia con i suoi compagni di allenamento, Lars Kleppich e Chris Sieber con i quali successivamente si sposterà in Sicilia, poi nuovamente in Australia per degli allenamenti specifici che avranno come obiettivo finale le Olimpiadi di Sidney 2000.
Mistral World Championships 1999 (MEN)
Classement final Groupe GOLD FLEET
après 11 manches (10 retenues) (48 competirors)
Classement édité le samedi 20 novembre 1999 à 18h45
Classt Noms Points 1e 2e 3e 4e 3e 6e 7e 8e 9e 10e 11e manches
1 KLEPPICH Lars 37.00 2 2 14 3 3 3 6 3 10 4 1 AUSTRALIE
2 PHILP Tony 51.00 3 1 7 4 1 7 19 8 5 7 8 FIDJI
3 GALVAN Marcos 76.00 11 7 11 7 29 5 3 7 1 6 18 ARGENTINE
4 KAKLAMANAKIS Nikolas 95.00 20 2 1 1 15 12 2 4 21 18 20 GRECE
5 TOBIN Jean-paul 99.00 1 8 9 3 7 13 15 2 19 26 22 NOUVELLE ZELAND
6 MIARCZYNSKI Przemyskaw 100.00 2 7 1 1 34 35 12 13 14 3 13 POLOGNE
7 MALEK Miroslaw 101.00 14 27 22 14 4 6 1 19 12 2 7 POLOGNE
8 VAN GEEMEN Martyn 106.00 3 3 10 9 17 2 8 17 24 13 29 HOLLANDE
9 GUYADER Alexandre 108.00 6 9 4 11 9 8 38 9 26 23 3 FRANCE
10 MC INTOSH Aaron 121.00 1 1 3 2 22 1 34 6 22 29 BFD NOUVELLE ZELAND
14 GIORDANO Ricardo 135.00 13 6 4 5 26 19 5 41 35 8 14 ITALIE Albaria Palermo
15 GASPAR RODRIGUES Joao 140.00 9 5 6 10 24 37 10 11 13 24 28 PORTUGAL
16 FRIDMAN Gal 142.00 18 10 3 8 28 20 4 20 11 20 31 ISRAEL
17 KENDALL Bruce 143.00 6 9 15 6 11 9 35 21 30 1 42 NOUVELLE ZELAND
18 BONTEMPS Julien 143.00 19 8 11 2 32 31 14 24 15 14 5 FRANCE
19 SIEBER Chris 144.00 4 4 6 9 41 14 30 10 7 22 38 AUTRICHE
20 ESPINOLA Carlos 150.00 15 25 21 19 16 15 25 1 3 10 27 ARGENTINE
Mistral World Championships 1999 - after 6 races - Women
Groupe MISTRAL WORLD WOMEN après 8 manches (7 retenues) (60 Inscrits)
Classt Noms Points 1e 2e 3e 4e 5e 6e 7e 8e manche
1 KENDALL Barbara 12.00 1 2 1 2 2 6 2 2 NLLE-ZELANDE
2 CRISP Jessica 33.00 9 5 9 4 3 2 22 1 AUSTRALIE
3 STURGES Natasha 49.00 2 1 4 1 10 43 24 7 AUSTRALIE
4 MERRET Faustine 57.00 8 21 31 15 1 1 1 10 FRANCE
5 VIDAL Lise 65.00 12 7 21 7 9 5 4 23 FRANCE
6 RAFFIN Eugénie 75.00 6 3 26 10 14 4 25 13 FRANCE
7 GATECKA Anna 78.00 11 14 16 16 8 9 11 9 POLOGNE
8 SENSINI Alessandra 88.00 7 8 6 21 17 21 8 DNF ITALIE Albaria Palermo
9 OKONSKA Marzena 89.00 36 18 15 23 4 3 12 14 POLOGNE
10 GROS Synthia 90.00 4 17 3 18 16 22 13 19 FRANCE
LE CLASSIFICHE Silver Fleet
Classement final Groupe SILVER FLEET
après 11 manches (10 retenues) (49-96 plase)
Classement édité le samedi 20 novembre 1999 à 18h45
Classt Noms Points 1e 2e 3e 4e 3e 6e 7e 8e 9e 10e 11e manches
1 CHUANWEI Gao 120.00 16 23 29 36 5 5 18 5 11 7 1 CHINE
2 STITTLE Kevin 147.00 31 29 25 25 3 18 3 4 BFD 6 3 CANADA
3 BEN ZEEV Jehunatan 152.00 35 28 31 34 10 10 4 7 6 4 18 ISRAEL
4 ZEHAI Mo 155.00 34 20 DSQ 32 2 6 1 20 8 9 23 CHINE
5 RUAMSAP Phanuthat 156.00 29 43 35 33 7 4 7 11 4 1 25 THAILANDE
6 POLLAK Patrik 166.00 22 28 27 20 13 24 11 13 7 10 19 SLOVAKIA
7 HUANG Ted 177.00 35 29 25 23 15 3 19 BFD 14 3 11 TAIPEI
8 PROFFITT Ben 178.00 33 21 19 26 14 19 16 18 3 BFD 9 ROYAUME-UNI
9 IKUO Inoue 179.00 33 26 17 21 -- 7 8 2 12 BFD 4 JAPON
10 WONG Tak sum 182.00 36 41 27 28 12 23 14 8 5 5 24 HONG-KONG
20 WIRZ Paco 242.00 27 31 13 24 24 -- 25 24 10 DNF 15 ITALIE CCRL Palermo
42 ALBERTI Alessandro 379.00 39 36 43 34 36 35 34 BFD DNF 24 DNC ITALIE Albaria Palermo
Le Classicfiche complete
http://www.acpv.com/fra/results/20nHom.htm
http://www.acpv.com/NewImages/18nov/ImagesMD/006.AllessandraSensini.01.jpg
http://www.acpv.com/NewImages/18nov/ImagesMD/007.AllessandraSensini.02.jpg
http://www.acpv.com/NewImages/18nov/ImagesMD/013.Depart02.jpg